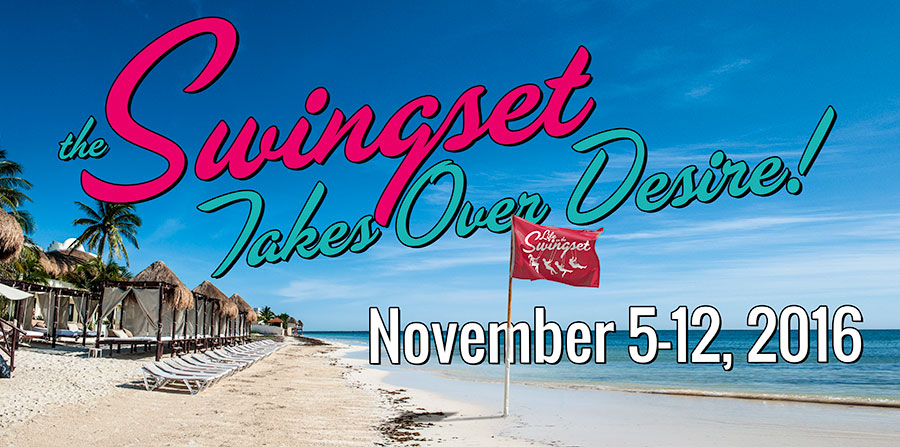 (To add just the right ambiance to your reading of this page, click play below to listen to some Desire waves)

Life on the Swingset has now spent four years gradually ramping up our presence at the greatest place on Earth, Desire Resort & Spa in Cancun, Mexico.
The most wonderful part of Swingset's annual trip to paradise has been the diversity of those couples that have chosen to join us. We've had nudists, polyamorous quads, couples looking to explore, long time swingers, polyamorists, exhibitionists, and those just curious. We also run the gamut on sheer variety of geekery. (One awesome couple brought me a 3D printed TARDIS and Dalek, then followed it up in subsequent years with a waterproof hot tub ready version of Cards Against Humanity! They sure know the way into this Geek's pants.)
For our fifth year, we decided to pursue aggressive expansion, and take the resort to ourselves in 2016! That's right, Swingset is doing a Takeover! What does this mean? Why is it different? For the first time Swingset will have the run of the resort, to organize the theme nights we want to enjoy, to plan the activities without worrying about getting out of anyone's way, and to guarantee the most awesome group of people to ever pull up on this bit of beach on the Riviera Maya.
On our trip you'll be able to explore to your heart's content, following your whims and desires to play parties both hosted and not, daily themed orgies, evening themed costume nights, demos of sex swings, floggings, and pegging, live podcast recordings, karaoke, wine socials, cocktails, prizes and giveaways, foam parties, or just relaxing on the pool, beach, or in the hottub. It's all there for you to pick and choose.
Desire Resort and Spa is NOT a large resort, and the number of rooms available are limited, so if you're interested in coming to paradise with Life on the Swingset, you should put down a deposit with our wonderful travel co-coordinators at Char Travel NOW! Our trip sold out in 2014 and in record time in 2015, we're certain this will sell out again for 2016, and it's hard as hell to turn people away, even though we can say "There's always next year!"
To those who haven't been to Desire before, close your eyes and picture the finest all-inclusive resort. See its beach and swimming pools, its fine cuisine, its top shelf booze, its beautifully appointed rooms and buildings…Oh, and did we mention it's full of open-minded sexy people?! Every level of openness is welcomed here, from those just looking to watch, to those filling their suitcases with leather, whips, and chains.
Desire is a place to let go and be yourself, free from the confines of the boring part of the world, where we can embrace the fact that our lives truly aren't like other people's.
For a taste of what a Life on the Swingset trip to Desire is all about, check out this article written about our trip, as well as the articles and podcasts below from our past trips.
Contact Char Travel to find out more about room pricing and availability
Pricing
Limited partial weeks are available. These rates include two people, 1 room, food and drink included.
Deluxe Garden View room: $3,976
Deluxe Ocean View room: $4,438
Garden View jacuzzi room: $4,830
Ocean View Jacuzzi room: $5,334
Passion Suites: $6,958
Theme Nights
While Desire Resort and Spa has their own regular theme nights, we thought we could cater them a bit more to our audience. Behold the 2016 #SSDesire Theme Nights!
Saturday:
Damsels, Druids, Dragons, & Dungeons
Sunday:
Inappropriate Behaviour and Deviant Desires

Monday:
Bods in Space
Tuesday:
Alternate history/steampunk
Wednesday:
ABC* and NSFW
Thursday:
Heroes and Villains
Friday:
Stage & Screen