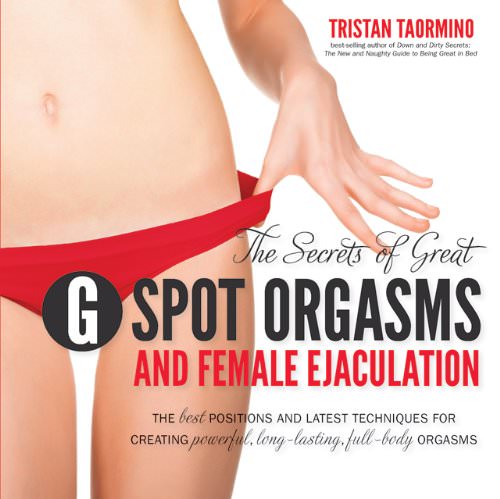 It's hard to describe exactly what a G Spot orgasm feels like. I've experienced them a million times and each one feels completely different from the last. They vary from light, quick orgasms to deep, hard intense orgasms that make me gush over and over again and my legs and body tremble all over. They can come from fingers, toys, a cock, and my personal favorite a girl with a strap-on. There are times when I don't squirt at all and there are times where I'm gushing like a fire hydrant and can't stop my body from ejaculating everywhere. There are so many factors that go into having a G Spot orgasm which makes each one unique.  I do know that when I have one it's the most amazing and lovely feeling ever.
In Tristan Taormino's book, "The Secrets of Great G Spot Orgasms and Female Ejaculation," she beautifully introduces you to everything you need to know about G Spot orgasms. Starting with the history of how they were discovered and the great debate on if there really is a G Spot, which there absolutely is. Also takes you on a trip to finding your G Spot, the anatomy of the female body, tips on solo exploration, positions for your partner and you to use to pleasure your G Spot. Gives you advice on toys and lubes she recommends, gets into how anal stimulation can impact your G Spot, and even gets into ejaculation. If that isn't enough she adds a few erotica stories in between chapters to get you in the mood.
I couldn't put the book down once I got it. Each chapter I read I learned something new and exciting. One thing I've learned and am dying to try is to place a G Spot vibrator inside of me and  let it just vibrate against my front wall, with no thrusting or anything, and just keep it still. The quick, strong pulsing on the vibrator increases the blood circulation to the urethral sponge, known as the G Spot, therefore causing the sponge to swell, increase sensitivity and become very prominent. Seems like such a simple thing to do and curious to know if I will have great results. Have to use my LELO Gigi to experience this first hand, which she recommends. Many of the toy and lube recommendations I highly agree with. I know from experience that these truly work. I highly recommend the Njoy Pure Wand for G Spot play, Njoy Eleven for more intense G Spot play, and the Njoy Fun Wand for anal play. You'll have to explore for yourself what will work for you, but she gives great tips on what to look for and what not to use; what lubes to use and what to use them with.
Tristan also takes you step by step into the techniques of the G Spot orgasm. Making sure you have plenty of warm up time, having the right hand and finger movements along with body position, applying firm pressure, and the come hither finger motion. Most importantly that you are in the right mind-set to reach a G Spot orgasm. If your aren't there you won't get the full effect of what it has to offer. The right mindset is needed to over reach the urge to pee factor as well. Relaxation and breathing  are the keys.
There are many diferent position to try to discover your G Spot that range from beginner to advance. Tristan describes what each one does and how much penetration it gives to the G Spot and how to reach them with a cock, vibrator or strap on. She gives step-by-step instructions on how to get into the position and make it work. Includes wonderful and tasteful pictures of how the position looks. Very helpful and easy to follow along with. Includes the use of pillows and Libertor shapes to give you the added extra angles to reach your G Spot.
The book also talks about another way for women to experience pleasure and reach orgasm is from anal penetration indirectly to the G Spot. Tristan goes through how to prep yourself for anal penetration and tips for getting over the nervous feeling about anal play. Just like with G Spot exploration it's all relaxation, being in the right might set, and going slow.  She includes the best positions for G Spot stimulation with anal play, how to be at the ideal angle and getting the most stimulation, how you can include toys into play with the positions. It is all very informative and helpful.
I really enjoyed that Tristan included a chapter on female ejaculation. I found it very similar to everything I've heard and know about squirting, gushing, or whatever you want to call it. I know not everyone can do it but encourages you to try to discover if you can. Tristan goes into what female ejaculation is, where the fluid comes from, what it is, how only some women can ejaculate and others can't. She provides information on how to prepare to gush, using kegel muscles to exercise you PC muscles to produce a more powerful ejaculation, tips for your partner to help you squirt, and she even has an ejaculation exercise for you to try. Something that I was happy she included was how some women can ejaculate from anal penetration. I've had that happen to me and it's the most intense and erotic feeling ever. I highly recommend it. There are even some helpful hints for clean up for squirters. Making use of towels, disposable bed pads, and mattress pads. One thing that she didn't mention, and was surprised she didn't, was the use of the Libertaor Throe. It's the best blanket you'll ever buy if you're a squirter or know a squirter. It soaks up every drop of wetness and you can throw it in the washer and dryer when you're done. Best product ever! I don't go anywhere without it.
Tristan also added some erotica in between chapters that were very sexy, hot, and totally got me in the mood. It was a very tasteful change to many of the other informative books I've read. It gave the book a style all its own. The stories are great for those who haven't explored erotica yet and want to see if it's for them.
I throughly enjoyed every page of, "The Secrets of Great G Spot Orgasms and Female Ejaculation." It was very informative, descriptive, and helpful; an excellent book for beginners who are nervous about exploring their G Spot and getting them over the hump. It provides the best positions and techniques to get there and great explanations for female ejaculation. I found it to be dead on to what I've experienced from gushing. The book might not be something for experienced women, but does give numerous ideas for enhancing your orgasms and new techniques to try. I found a couple of techniques I'm dying to try myself. I was itching to play with myself millions of times while reading the book. I Hope it will do the same for many others out there as well.
Full Disclosure: We did not purchase this product, it was sent to us specifically for review. Our policy is to, regardless of how we acquired a product, review it fairly and openly. No writer for Life On The Swingset will ever deliberately mislead our readers into believing that a product is good because of anything we received from the company. We are open and honest, and cannot be bought or bribed. If we love a product, we'll tell you, if we don't, BELIEVE us, we'll tell you that too. End disclaimer.