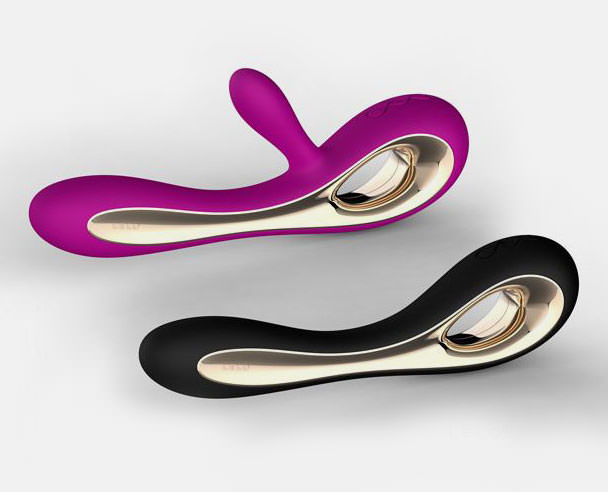 Splish, Splash I was taking a bath…"
For the longest time know I've been hoping and praying that my favorite pleasure toy company, LELO, would come out with a toy or toys the would be able to come along me into the tub. I've found many toys that satisfy that craving, however none meet the quality of touch and intensity that my LELOs do. I was thrilled when I heard that LELO had come out with a new line of pleasure toys that were water proof called Insignia. I was in heaven! My two favorite things in one. What could be better than that?
First from the Insignia line is LELO's Isla.  This vibe looks very sophisticated and sleek with its soft, curved silicone black form (it also comes in Turquoise Green and Deep Rose) that fits perfectly to my body.  It has a light metallic coated ABS core with an eye hook loop at the end to slide you fingers into. There are 3 buttons that you use to control Isla. The (+) that turns it on and increases the intensity, the oval that changes to any of its 6 vibration modes, and the (-) that lowers the intensity and turns it off. These buttons are all very easy to use and control when Isla is inside of you.
Now the real test was how Isla handled in the tub. I was handed Isla by Cooper as I was in the tub relaxing one evening and figured this was the superb time to try her out.  I put my middle finger and index finger in the loop and turned Isla on with my thumb. I glided the silky black toy over my clit, over my lips, and into my pussy. The toy felt like satin as it slid up into me. It conformed to my every curve and reached my G-Spot with ease. I gave myself a few firm thrusts and my body was wanting more, so I increased the intensity and was ready to cum very quickly. After few hard shoves of the Isla on my G-spot I was releasing my hot cum in the warm bath water. It felt wonderful, wasn't as strong or as intense as I normally found LELO toys to be, but still did make me feel good and cum fairly quickly.
Next I was trying out LELO's Soraya from the Insignia line, which looks very similiar in size and shape to the Isla, but the Soraya has dual motors, flexible stimulation tip, and 8 vibration modes. One of the motors is located at the tip and one is at the flexible stimulator tip. This one really caught  my interest. I knew the stimulator tip would be great for clit play, which I love. Soraya felt just as soft, tender and velvetty as Isla did when I held her in my hand. I was very anxious to get Soraya in the tub with me and give her a spin.
I slid the Deep Rose colored vibrator (also comes in black and cerise) gently me and found my G-Spot. Once inside I positioned the stimulator tip between my pussy lips and on top of my clit. Oh wow! This felt amazing. The vibration from the inside pressing my G-Spot and the tip arousing my clit was  the most unbelievable feeling, I felt like I was in heaven.  So soft and energizing. I knew this was going to making me cum quickly, I could feel it already, so I raised the speed up and slammed the vibrator hard and fast into my swollen pussy and within moments a strong, steady stream of boiling cum was pouring out of me into the hot, bubbly bath water. This was one of the hottest things I've seen myself do in the tub. It was so freaking sexy and erotic. I had found my new bathtime companion. Wow!
Both the Isla and Soraya are very easy to charge and to clean. To charge the LELO's you just insert the little plug into the small indented hole on top of the vibrator, above the finger holes, and plug into the outlet. When finished charging for about 2 hours the LELO's last up to 4 hours of play. The unique thing about these LELO's is that this indented hole self heals itself up so water will not go back into it. So it's completely water-proof. Unfortunately on my Soraya the hole didn't cover itself back up. I was careful and didn't totally submerge it entirely into the water. So it's safe for future playtime. It still did miraculous things to me that this didn't bother me. Clean up was a breeze, just a little antibacterial soap, warm water, and a light scrub and both vibrators were ready to go for next time.
Each Insignia LELO vibrator comes inside LELO's sleek, stylish black box with a charger, black satin pouch for storage, an Insignia brooch, and LELO's full 1 year warranty.
There is also a third pleasure toy in the Insignia line that I didn't get a chance to review. It is an egg shaped personal massager named Alia. I would really like to try it out as well, I believe it would be just as amazing the rest of the line.
Over all I loved both the Isla and Soraya, but I think the Soraya was my favorite. The strength and the flexible head really grabbed me and pleasured me like a quality toy like this should do. I think every women should have a Soraya in their collection. It is a vibrator that no woman should be without.
Full Disclosure: We did not purchase this product, it was sent to us specifically for review. Our policy is to, regardless of how we acquired a product, review it fairly and openly. No writer for Life On The Swingset will ever deliberately mislead our readers into believing that a product is good because of anything we received from the company. We are open and honest, and cannot be bought or bribed. If we love a product, we'll tell you, if we don't, BELIEVE us, we'll tell you that too. End disclaimer.