It's hard to divorce the word Vesper from Vesper Lynd, the very first Bond girl, and the one played fabulously by Eva Green in Casino Royale. I suppose it's fitting that this vibe is surprisingly classy. I say surprisingly because, while I've met and experienced many a vibrator in my time, including some of the highest end the industry has to offer (if you don't include the batshit foolishness that is LELO's gold vibrators…who the fuck needs that?) I don't know that I ever would've considered one classy.
Like the drink that Bond makes up on the spot, and subsequently names Vesper, this vibe is something unique in an industry full of similar.
It's long and slender, in shiny silver or gold. It looks like a piece of jewelry, it hangs like a piece of jewelry on a simple silver chain. While I personally may lack the fashion profile to rock this hanging in my Burt Reynoldsian chest hair, it certainly looks lovely hanging down into cleavage. Which, I'm sure, was its ultimate purpose. Well, that and making Joanie Holloway roleplaying that much easier.
Sigh, Joanie Holloway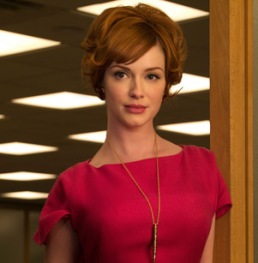 .
Anyway. The Vesper's settings are simple, low, medium, high, and pulse. The high is impressively so for something so small and simple, better than bullet vibes I've experienced. The variance between low and high is also impressive. And then there's pulse, if you're into that sort of thing.
The Vesper charges via USB much in the same way many vape pens charge, you screw the top off, then screw the vibe into a USB dongle. It's a simple solution, though forces you to always know where that SPECIFIC and proprietary charger cable is.
(Imagine all the USB cables…using the same connectors…. You may say I'm a dreamer…)
To help mitigate the problem, the Vesper comes with a small faux suede pouch to store it, its USB charger, and its chain.
Now, down to the nitty gritty. Does it get the job done? My partner requires some very intense vibration stimulation, and over the years has gravitated more toward pinpoint accuracy vs the blunt tool (ie The Magic Wand) and with its slender build and slight curve down to a very rounded "point" the Vesper more than fits that bill.
Myself, I quite enjoyed running the "point" up and down the line in my frenulum. Not powerful enough to tip me over to orgasm, but a delightful tease.
I think the Vesper would be a great addition to a BDSM kit, as its size and versitility would be quite the boon.
It lasts an impressive while on a single charge, and charges up pretty quickly as well.
Recommended!
Combine the Joanie cosplay, with its small & discrete form factor, its intensity, and there's really something to like here.
User Ratings (

1

Votes)

10