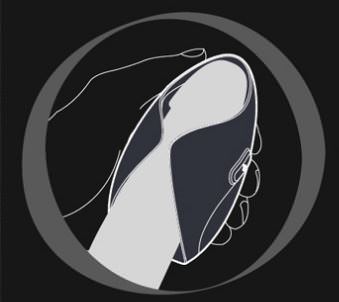 Do you think we, as producers, purveyors, purchasers, and patrons, could all just agree that it is unlikely that something will come along to "revolutionize" male masturbation in sex toy form?
I've been doing this a while, and have seen so many so-called "revolutionary" products come and go, none being quite so revolutionary, or worse having great potential but fatal flaws. Usually revolutionary is just a code word for weird, like the VerSpanken. Or cost prohibitive, like the Real Touch. I may sound like a broken record here, but the unless you're really chasing prostate orgasms seriously while simultaneously convincing average joes that it's okay to put things in their butt, it's unlikely you're leading a revolution. And the bottom line for most of us is the fact that we were born with the best masturbator anyone could ask for: Old Righty. And when we're feeling in need of a little variety, throw it on over to Lefty.
Is it fair to open this review of Hot Octopuss' Pulse by deriding the very idea of a revolutionary male sex toy and then questioning the need for male sex toys entirely?
No. I can be a dick sometimes.
So it's with apologies that I transition to the review proper to talk about The Pulse. (Which apparently has PulsePlate technology. [Grrr, jargon!]) Is it revolutionary? I suppose that'd have to vary from person to person. It's a vibrating masturbatory sleeve that's ridged on one side and open on the other. This isn't something brand new and shockingly different. So hence my grumpy ranting about the word "revolutionary."
It IS, however, the one and only male sex device to ever get me to orgasm without other stimulation or stroking. So that's definitely something, and shouldn't be minimized in any way. Perhaps it's the fact that it oscillates instead of vibrates on the inside. The vibration is on the outside for my partner.
The pulse looks like a super advanced flight backpack one would wear. But on their penis, and not on the back. Though do you consider the underside the front, or the top? Now that I've made the distinction I find myself questioning it. And questioning myself! But hell, you can see it up there. See, sorta super exciting backpack.
On one side, flexible wings and on the other a ridged surface with a "PulsePlate" which is sort of a raised button about the size of a nickle with a crown on it (in case you're into the royal family, I suppose. [Like REALLY into them.]) that is the primary source of the oscillation instead of vibration.
What's really nice about this device is that the wings hug your cock (awww…) and hold it in place. I started out flaccid, and my frenulum was still being held directly on the PulsePlate. It's certainly enjoyable to go from flaccid to hard by way of the vibration on the frenulum.
Okay, so I've made the bold statement that this thing made me cum. And no other vibe has done that. To be clear, the reason most vibes can't do that is because I don't give them the time to do so. Twenty minutes with the grandmother of all orgasms the Magic Wand Original (nee Hitachi Magic Wand) and I might cum from that too. (Or I could whip out and plug in the Palm Power Massager for some truly powerful vibration insanity.) Now, this isn't meant to short change the Pulse. Because it was less than 10 minutes of vibration that got me there.
It isn't EXACTLY hands free, because I found it simply wasn't strong enough hugging my cock (aww.) and got me far further with a push down toward me, so my cock was laying flat against my body with this on top, and I pressed it into my abdomen. Still 100% on board with the idea of hopefully getting to a strokeless orgasm, I held there. And it came. (It meaning me.)
So, impressive, no? I mean, to me it is. Quicker than expected, not quite as hands free as the literature suggested, but overall, well done Pulse. Well done PulsePlate, even if it makes me grumble in a "get off my lawn" way to type that. (Maybe the next revolutionary vibe will come with Riboflavin or Blast Processing. [One can hope.])
It's also designed to be used around the cock with friend grinding against the vibrating outside. I could see how that might be fun.
It's not waterproof, unfortunately, and while I may not get off in the bath the way many of my female-bodied brethren (what an odd statement, that) do, this is the way the world is moving, so to NOT be waterproof seems a definite draw back.
Is it good? Yeah! Is it great? Within shooting distance. $99 is a bit expensive for a male masturbator, but I'll give it a pass because of the oscillation. Is it a revolution? I'll call one when I see it. It hasn't happened yet. (And may not be televised.)