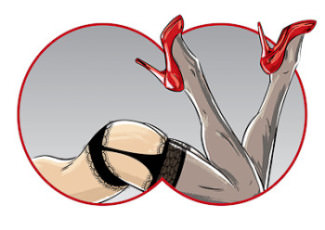 To the people that earn my trust, I hold nothing back about my lifestyle choices. Due to this, many of my friends know that I am poly, that I'm queer, that I do burlesque, and/or that I cam. Even some of the retired women I knit with once a week know I strip (they love it, reminds them of Gypsy Rose Lee). I have a strong desire to make "taboo" things totally commonplace, boring even.
"You date men and women? Who doesn't?"
"Oh, two boyfriends? Pfft, whatever."
"You take your clothes off for money? YAWN."
I want this fantasy world to be real. The best way I know to do this is when I talk about my life, I talk about these things like they're no big deal. To many, the little details of my life are a big deal though, and they take a vested interest in them. When I come out as a camgirl, especially to men (but quite frequently to women too), they're usually compelled to perv my shows, as in watch them anonymously. Despite what one might assume, I ADORE this. It's weird, but it keeps me on my toes. I don't know if the people watching me are good friends or total strangers unless they let me know. I always want to be on my cutest behavior in case someone I actually want to be flirting with in real life is watching, which I think works to my advantage. I act to strangers the way I would if I was camming with someone I was just starting to date.
In the poly world we call the really happy-go-lucky feelings at the beginning of a relationship NRE or "new relationship energy." I feel like when friends, new perspective partners, or current lovers are watching my cam-feed, I can spread that NRE to everyone in the room. It's like each fan gets to be on a first date with me, filled with all the first-date giggles, smiles, and sexual tension. Except more naked.
Camming has also been a great tool for my long-distance boyfriend and I to play while being hundreds of miles apart. He watches my cam, chats with me, tips on occasion (even though I tell him not to), and gets to watch me do very sexual things as if it were just for him. He seems to get a kick out of it, and I like knowing that someone in my room is going to respond if I want to have a fun geeky conversation.
Most of the cam-watching community is comprised of men that are a bit too socially awkward to go out and hit on girls in the real world, that's why camgirls are so convenient. They might cost money, but probably not as much as going on a lot of dates might, and they're not nearly as anxiety-inducing. They can give guys what they want, are even sometimes interested in what they're interested in, and are usually just fun ladies to be around. There's no social hangup of, "Is she going to like me?" "Is she going to shoot me down?" Because, unless dude is looking to get something for nothing, camgirls just aren't like that. They want guys to want them. They love guys that love them. And if said cam-watcher isn't a total douchebag, most camgirls aim to please.
I also plan to cam with friends someday. On the site I'm on, MyFreeCams, men aren't allowed to be on cam, but ladies are welcomed to join in on each others rooms. Not only welcomed, but the demand is incredibly high for rooms with multiple models (i.e. they make a lot more tips). Smart camgirls network with other models on the same site as them to do tip contests, photo shoots, videos, as well as dual cam-shows. Traveling across the country to cam with another model can sometimes pay for itself and then some.
Having friends, lovers, and fans as a support network in camming is crucial to being successful and to make this job feel less like a job. The more fun a camgirl looks like she's having, the more money she usually earns. It makes for a nice, happy cycle.