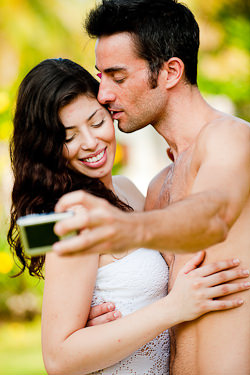 When we began to discuss our plans for Burning Man this year we talked about the idea of a recommitment ceremony to honor our 25th year together. A ceremony not as a symbolic gesture, but an opportunity to redefine our marriage to reflect who we are today, both as individuals and as a couple.
As the day got closer, we worked on creating a ceremony informed by our experiences and the advise and wisdom gathered since first discussing the concept of leaving monogamy behind to seek out new sexual experiences and relationships. In writing our vows I researched a wide range of ceremonies, from traditional marriage vows of various faiths, polyamorous ceremonies, and pagan handfastings; borrowing what I liked while combining these ideas with my own words.
Once I had my thoughts together I shared them with my wife so she could build from my notes and discuss those things we believe would help us to continue to build and sustain a healthy relationship. During these conversations we discussed our shared hope that we remain happily together forever, and agreed that this is best served by creating a relationship where we make the choice to stay together out of desire and not because of a promise to do so.
In the end we had five principles, vows that we believe will allow us to continue to be great partners for one another even as we continue to grow and change as individuals. Last week we looked each other in the eye in a beautiful ceremony at the Temple of Whollyness, and amongst the dust of Black Rock City we chose to commit ourselves to:
Respect and appreciate our differences, to trust and honor one another; to love one another, and express that love as it wants to be received
Support and accept support from one another in times of joy and in times of pain and sorrow; to honestly discuss, encourage and assist one another so that we may realize our dreams and desires
Keep passion a priority in our relationship, to share in each others laughter and joy, trust in our growth and our ability to change, and to discover new adventures together
Communicate openly, honestly and with patience; with an empathetic ear and a compassionate heart. To share all of ourselves with one another, and promise to say the things that scare us, and
When we falter, to have the courage and commitment to remember these promises and take a step back towards one another with an open heart.
While some of this may seem obvious, the reality is that this is not how we lived before I learned to accept my desires and fully opened up to my wife. While our marriage was a "success" by conventional standards (as we were married for more than 20 years, had children and remained monogamous,) our marriage was rapidly eroding due to years of poor communication and mutual resentment. While we had love for each other, we did not treat each other with love.
While I expect that some may question the vows we chose to include in our ceremony, we found that these words reflect who we are as people today and what we need from one another for our relationship to work.  Since opening our minds and reestablishing the communication, trust, and support that has transformed our marriage; we recognize that the only constant in life is change. While these are the vows that we live by today, we recognize that there may be a day where our needs change and we find this to be insufficient; and if that day comes we will discuss rewriting our vows so that we can once again commit ourselves to each other based on the people we become.
During the process of creating our ceremony I was once again reminded how well my wife's emotional core compliments my logical mind; and how like our relationship, our collaboration on these vows produced a result greater than the sum of its parts. With these words I chose to re-commit myself in a marriage that is formed by our friendship; a union of lovers, confidants, and partners.