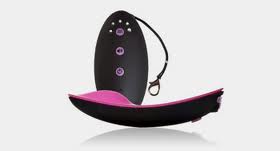 Let's talk about the OhMiBod Club Vibe 2.OH remote control vibrator. Let me preface this with a quick comment. If you haven't used a remote control toy before, let me help to set realistic expectations. In every remote control vibe I've ever tried, I've yet to encounter one strong enough to get me to orgasm. They just aren't built with enough power. In order to have enough power, they would be prohibitively loud, which defeats the purpose in my book. But, if you're looking for a toy that you and your partner can use to discretely tease and play, this is one of the best I've tried.
To start with, I should give you the Don'ts for this particular toy. This is not a waterproof toy, so be careful not to submerge it or get water in the charging port while cleaning it. Also, because this is a silicone toy, it should never be used with silicone lube.
Next, let's get the technical stuff out of the way…
The package includes:
The vibe and remote

A one-size-fits-most pair of black lace panties with a pocket for the vibe

A mini-usb charging cord

A black fabric "privacy pouch"
The toy itself is 3 ¾" inches long, 1 ¾" wide, and about ½" thick. The remote is the same length and width, but about twice as thick. The two pieces fit together and look somewhat like a computer mouse only rounder and slightly thicker. It comes with five pre-programmed patterns plus a "club mode" with sound sensitivity control.
Okay, now onto the interesting stuff. While there are many things I liked and loved about this toy, and I'll happily expound on those in a minute, it still has a couple of flaws. First, it's kind of wide to have hanging out in your underwear for very long. It isn't bad enough that it made it unusable, but it took several adjustments and some getting used to before it was comfortable. I should also mention that the pocket in the panties isn't for easy storage, but to supposedly make the vibe stay in place for easier use. I found that I spent more time getting the toy into the little pocket (wide toy, little pocket) than I did with adjusting it a bunch of times to find the right spot using my own panties. Even after finally getting the toy in the pocket and the panties on, the pocket seemed more of a hindrance to keeping the vibrations close to where they would do any good. My advice would be to use your own panties, but do a couple of trial runs before taking it out of the house so you know what works.
The rechargeable battery behind the Club Vibe is a good news/bad news thing. Rechargeability is theoretically amazing and works really well most of the time. It eliminates the need to worry about having the right kind/number of batteries on hand. But, and this is a big BUT, if the battery dies in between uses, when you go to use it the next time, it means waiting a couple of hours for it to recharge. This is particularly an issue for this style of toy when you may not realize you're out of juice until you're in the cab on the way to wherever you're going. Not that I've ever had that happen before…twice…
The pre-programmed settings are good, but the "club mode" was unique. The remote can be set to send vibrations to the toy based on sound. The sound sensitivity can be increased for lower volume environments, but my best experience was when it was loud. It's aptly named as I feel a club or concert environment would make this feature shine. The toy itself is quiet enough to use just about anywhere with ambient noise.
My favorite part of this toy is the range. It is nothing short of amazing. My partner, who is always an enthusiastic accomplice in any sex toy related shenanigans, helped me test the limits. We discovered that it worked one or even two rooms away. That's two to three times the realistic range of anything I've seen before.
So, to sum it all up, the OhMiBod Club Vibe 2.OH remote control vibrator is a fun toy with a great range for those who want some delicious, but discrete teasing.
Full Disclosure: We did not purchase this product, it was sent to us specifically for review. Our policy is to, regardless of how we acquired a product, review it fairly and openly. No writer for Life On The Swingset will ever deliberately mislead our readers into believing that a product is good because of anything we received from the company. We are open and honest, and cannot be bought or bribed. If we love a product, we'll tell you, if we don't, BELIEVE us, we'll tell you that too. End disclaimer.