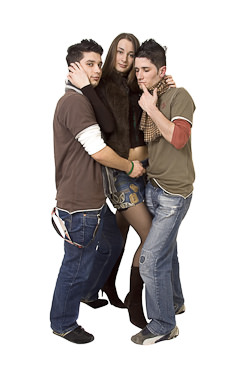 While we are exploring the possibility of my husband getting it on with the local hottie in town (see previous blog), I felt some waves of jealousy. Yet I realized that my jealousy was not Mr. D. playing with the hot blonde. In fact, I am looking forward to being the videographer of that show. Mr. D. should certainly not pass up a once in a lifetime opportunity.
Instead, I am jealous that I do not have enough play opportunities. As I have written about ad nauseum in previous blogs, Mr. Doubleplay probably has about 75% more intercourse than I do when we play with couples, despite our intentions. The amount of guys that can't get it up or keep it up in the lifestyle still astonishes me.
The lack of hard cocks in the swinger world has caused me to realize that I should be seeking out more play opportunities for myself. Recently, I have discovered that I am a big fan of MFM opportunities. I was worried that I might find them intimidating but my experience with a single guy and Mr.  D proved to be just the opposite—I was relaxed and fully in my element. I loved not having to worry about the other girl. Was she fine with all that was happening? Was she having a good time? I was so happy not to have to worry about all of that. Instead, it was all about me. And it turns out, I love that.
We have only had one MFM because Mr. D. is in charge of the technical side of our swinging. He checks our profiles, keeps track of correspondence, and trolls the site for potential couples. I am grateful for his dedication. We probably wouldn't swing at all if it were up to me. I don't know how he finds the hours necessary to do that work. (I suppose I would rather blog about the lifestyle than doing the couple research).
Mr. D. is not opposed to MFM scenes. But he doesn't get anything out of it that he doesn't already get for me. In our rare MFF scenes, I am devouring the gal as much as he is. But as a straight swinger, Mr. D. not only doesn't get a new play partner in an MFM, but he also has to be careful where he is touching to keep clear of the other guy. The rubbing of man parts is awkward for him.
Because he doesn't get extra benefits from MFM scenes, he doesn't want to do the work to find them. So I am going to need to step up to do the work of finding single guys. Luckily the new hot blonde in our life is able to offer me advice. She has screened some of the potential guys already. Plus she can give her honest advice to me about my prospects. It's great to have a sounding board!
I need to start chatting with some of these single guys to see who might be a good fit. I am not sure if I am going to enjoy the hunt. But with any new lifestyle experiences, it's best to dive in and give it a try.