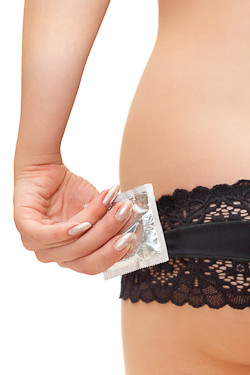 Often I come across things out on the web that are simply the best information I've seen. I'd been wanting to collect data into a great safer sex guide for quite some time and then the Authoritative Guide to Safer Sex was pointed out to me from the good folks over at Online Dating University. Rather than attempt to do my own and pale in comparison, I present the opening paragraphs below and then take you right into their guide.
We here at Online Dating are thrilled to welcome you to "The Authoritative Guide to Safer Sex." As anyone sexually experienced will tell you, healthy sex lives depend upon confidence and security. So it should come as no surprise that we firmly believe safer sex means smarter sex. It's the very stance that motivated us to make this guide in the first place.
It is also worth mentioning that we've designed this guide with flexibility in mind.  If you are looking for info on specific questions, you can always hop to the topic of your choice. But anyone looking for the complete overview will be better off experiencing the parts in succession. Remember, there's always room to build on your working knowledge of safer sex; it's a key part of personal and social responsibility. So read up and take charge of your sex life!
Table of Contents