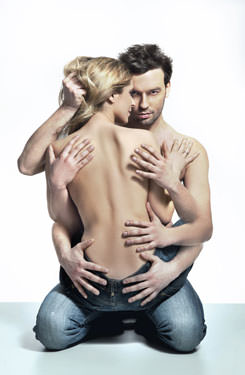 Our last two lifestyle experiences have been rather frustrating for me, Mrs. D. After a four-month hiatus due to business travel, I was ready to get fucked. And while I truly enjoy seeing my husband fuck hot women, I have felt short-changed in recent adventures as both times the male in the relationship has had performance issues.
Mr. D and I have been talking about contacting a single guy, but we were afraid to take that step. We certainly had been discussing it during our dirty talk in the bedroom. But in reality? A scary next step for us! Our thoughts were shifting from it not feeling right to being intrigued and realizing it might be a great option for satisfying my growing desires! Plus we hoped that perhaps making a plan with a single guy might offer less drama. No cancelling at the last-minute due to babysitting woes.
We looked through the profiles of local guys on our swinger website of choice. Some were downright frightening. Some appealing. Once we came upon the profile of a guy whom I'll call Dear John, I felt he was the right choice. To our delight, he was able to meet us the following evening.
I always chuckle as we leave the house for a lifestyle evening. We tell the sitter, "Oh we are going out for drinks with friends. Will be back in about five hours." Little does she know. I was dressed in my finest, nervous and hoping to impress. Mr. D was in sandals and a t-shirt, joking that he had no need to fully groom himself for a swinger evening.
We met Dear John at a local bar/restaurant. He didn't have our face pics. Mr. D. said, "We don't need to share our face pics for him to want to meet us. Let's stay discreet." I went and found him outside and brought him in to our table. He was polite, very humble, but also self-assured. He clearly had many experiences in the lifestyle but did not brag.
After a couple of drinks, we agreed to go to a local hotel. We got there first and texted him the room number. He discreetly came up the back stairs. We put on some music and I was delighted at how naturally he came right over and gave me a squeeze and a kiss on the neck as if we were old friends. Well, more than friends I should say. Nothing awkward about it or aggressive, but it was clear he was feeling comfortable, confident, and was going to be an incredibly sweet guy.
I was blown away by how wonderful the experience was with Mr. D and Dear John. I felt like a princess. So much attention and yet I felt so comfortable with this guy that I could just let myself go and enjoy it all. It helped that he had amazing skills. He knew were to lick, where to suck, where to caress. He would take charge, but in the most sensual way. He worked well with Mr. D, even suggesting that Mr. D. fuck me first. Mr. D and Dear John both enjoyed taking photos of the experience. I had so many orgasms my eyes rolled back in my head, and yet when the boys were both finished, I could have gone on for more. In fact, when we returned home I had the fun of corralling Mr. D for some extra action.
I have always thought of single guys as creepy. I have to admit that. And I'm sure many, many are. It never occurred to me that an MFM threesome could also be a total treat for the woman. Pure bliss in fact. We will still keep these nights as special treats for me though, as Mr D needs a pussy to call his own for the evening and I love watching him make a woman moan. But for special nights and for nights when no couples are available, a carefully selected single guy might be just want we want on the menu.