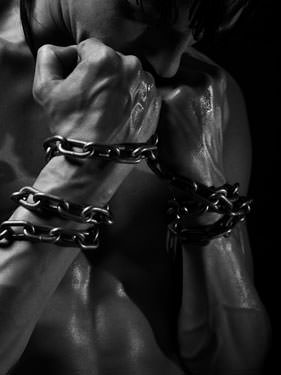 I am Dom, and I am sub. Two women. Two scenes. One night.
Never really went there before. Have considered, have tried. Never actually let go.
When I am Dom, I know she wants to be humiliated, to be held down, to be called a whore and a cunt and fucked.
When I am sub, I discover that I want to have choices taken from me, to be treated however my Mistress feels I should.
Both in an evening for the first time, in a city far away enough and different enough, and unique enough to be a product of my imagination. Both without foresight. Without my standard hemming and hawing.
When I am Dom I follow her into her hotel room and put my fingers inside her. My hand holds tight on her throat. We don't say much. (Though I do fall prey to "Is this okay," once or twice.) Her moaning fuels the desire to continue, making me hard, making me realize why people like this, and scaring me a bit.
When I am sub, Mistress tells me She wants to put me on a cross and beat me. These are not words I've been told before. And they engender a slight panic, out of my element, far from home. But that very distance, and the fact that I stand in front of a St Andrews Cross when She tells me this, are what finally allow me to just let go.
I've known I am a switch, if anything at all on the spectrum, because I'm not overwhelmingly drawn in either direction. I can be Dom and I can be sub. I feel I'm just a bit on the sub side of the line, but not far enough that I could never Dominate.
But that sub side is what holds me back, the "check in" can break the mood. Yet still I command my sub, in her hotel room, to remove her clothes and then mine like the dirty whore she is. These words are interesting to me, difficult to say were it not for her clear enjoyment of hearing them. These habits that porn has taught us, holding her head against my cock until she chokes, spitting on her, making her feel like an object, these things I've trained myself never to do. These things are what my sub wants to feel, and I want to give them to her. Because to be a Dom is to give, right? At least in some way.
To sub for me is to allow myself not to control the scene, because in life I'm in charge far too much, of projects, of The Swingset, of my life.
When I am sub, I don't even find myself topping from the bottom. I am blindfolded and hold onto the St Andrew's cross, I submit to Mistress SinD and Miko by my side submits to Pendragon. Blindfolded with full body contact, holding onto the rings at the top of the cross.
As a sub, I am flogged, and I raise my thumb for harder. The Mistress maintains contact, and communication, because this is my first submission. I am paddled and spanked. I am slowly stripped in the blackness under the blindfold. I am told that I'm grinning.
When I am Dom, I tell her what I want to do and do it. I make her cum as I fill her with my hand. I make her choke. I don't have to hold her down, because she fully submits to me. She takes what I have to give her like a good little whore.
When I am sub, stripped (almost) naked now. Taken from the cross to the couch, still in my own world of darkness. I'm fondled and fucked in the dark. My Mistress lets me kiss Her, and touch Her, and I'm grateful, as Miko's cries of pain and pleasure continue across the room, in a blackness of her own. After I cum, She removes the blindfold and my eyes take a while to adjust, but my Mistress is smiling at me, and the scene has ended. She comforts me with touch, and allows me to come back to the real world. I experience the joy of aftercare for the first time, as I'm told by Her husband that my friends would see me tomorrow, and that they left me in good hands. It's only then that I realize how much time has passed while I was in the darkness, while I was sub. While She was in charge. I thank my Mistress.
When I am Dom, we lie in bed recovering. The moments were rushed and frantic, the way they often are when months have passed with discussion of eventually being together, and distance is no longer an issue. We lie there thoroughly fucked, and take a few moments to reflect and breathe deep. I realize that I am protoDom. I am not as rough, or as tough, or as in control as she perhaps wanted, but not necessarily wanted from me, just from a Dom. I feel she got what she wanted from me, as I from her. Lying there. Laughing a bit, turning back into people, friends, playmates. Perhaps this is what aftercare is. The transition. The interstitial between two worlds. I kiss her, and thank her.
When I was Dom, I saw that giving pleasure, and receiving pleasure, often doesn't look as you expect, or as the world conditions you to expect.
When I was sub, I discovered a world where I could let go. And putting myself in that mindset, I learned why subs love being submissive It's a wonderful feeling to trust enough to give over to someone.
On my first night in San Francisco, I was both Dom and sub in a single night.
Talk about a mindfuck.