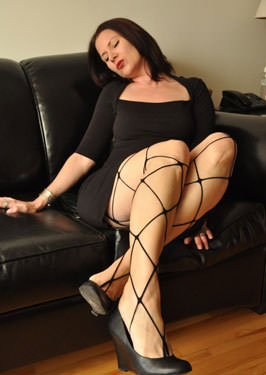 Hello there! Spying on me, huh? I can't blame you; I have an unconventional life. Another reason I can't blame you for peeping on me (you naughty thing) is that I'm the one who made it possible.
I opened the door and let you in. I invited you into my home and made my whole darn life available for your viewing pleasure 24/7. Whether you're in Canada or Cambodia, baby, I'm here for you. Perhaps you want a quick peek to see what I'm up to, like that time you caught me naked in shower or that night you grabbed a nice, big handful of yourself and wanked along while my fiancé and I had sex. It's all good. I'll let you see my every private moment.
Oh, wait sorry, we've just met, haven't we? You don't know what I'm talking about. Well, pull up a (virtual) chair, sit yourself down, and by the way, are you sure you wouldn't care for a peek? At me, silly. My voyeurs tell me it's a pretty cool way to pass an hour or three.
No, wait, get out of those bushes! Really, come here. COME HERE! That's not even my house, darling, quick!! Before the owners call the police! Gosh, aren't you jumping the gun a little? You can stay right where you are and spy on me from the comfort of your own home – no need to sit crouched in that shrubbery. Do you do that a lot? Just click my links, visit my websites and poof! I'll be right there on your screen.
Welcome to my world. My name is Mina. I'll be your hostess this evening (and for the duration of your membership to my websites). Over there, you'll find 10 years' worth of videos I made first with my ex, and for the last six years, with my fiancé Joe. Over here, ditto naughty galleries. And this, my dear, is the "Cams" page. SPYCAMS. Live ones. All over my house, and on 24/7! Neat, huh?
So much nicer to talk face to face, isn't it? Well, my face on your monitor, that is.
What's the plan for the rest of the evening? Maybe I'll do some writing, then hang out with Joe before bed (which is generally about 11pm ET – FYI – if you'd care to join us). Don't worry, one of the BedroomCams (yes, there are two) has NightVision and you'll be able to see everything quite well no matter how low the light. Indeed, we could have sex (wicked libidos, Joe and I), and you'll see it just fine if it happens.
Well, no I really can't guarantee we'll have sex. And no, we're not going to do it like that. We're going to do it the way we like to do it. Why? Well…because it's our sex life. Yes, indeed you ARE paying to see it, aren't you? And I appreciate it — so glad you're enjoying yourself. But let's get something straight here, doll: whether it's a video, picture gallery, or live action on the spycams, you're watching my life.
My private life, with all its ups and downs. Like for instance, remember 2 years ago when Joe had cancer (for the 2nd time) and I was at the hospital so much every day that you hardly saw me, but then I'd get home at night and bawl my face off, just to release the stress and terror? Oh, sorry – you weren't here then. Ok, how about this afternoon when I was dancing around while doing my hair because the tunes were hot, I was naked and felt like shaking it? Darn it, you missed that too. Well, gosh, you're here now, at least!
My point, darling, is that you're accessing an intimate portal here, far beyond a hot collection of homemade smut, a dimension past that of someone who exhibits her sex life for fun and profit. You've entered The Voyeur Zone.
Six years ago, having had such fun sharing my sex life via my websites, I thought "wouldn't it be neat to share the rest?" We're extremely open people and after some discussion, we agreed we had nothing to hide and would get a kick out of it, and so we rigged up webcams all over the house. The added spice of doing such a thing almost as a kooky social experiment was irresistible!
So here you are: watching me, sharing my most intimate moments, whether they're joyful, sexy, boring, tragic, ugly or just plain WEIRD. No, I don't know why I do that thing in the shower with the bath puff. My strangest personal habits are on display for your entertainment. Whether you're bored, lonely, horny, curious, I'm flattered you've chosen to spend a few hours watching me do my nails, work on my sites or blow my fiancé.
But you are a guest in my home. You're seeing my body, my sex drive, my snatch, my private life, my joys and tragedies. Mine, mine, mine! Indeed, I do get a little emphatic on this point. Boundaries are important, aren't they? And one of my boundaries is that my personal life is my personal life.
So crack your libation of choice and get ready to do some peeping, you naughty thing. It's time for me to get off this keyboard and go be interesting. Nope, I'm not sure what we'll do – perhaps a long hot bath (wanna scrub my back? *giggle*), bake some cookies, tv with Joe or maybe I'll throw a hot fuck into him (and film it for next week's website update).
I will promise you this: every moment you see will be 100% real, unscripted, and the deepest, most intimate look you've ever had into a stranger's life – not that we'll be strangers long. We'll be great friends, you and I. And knowing you, my friend, are sharing all this with me means as much to me as it will to you.