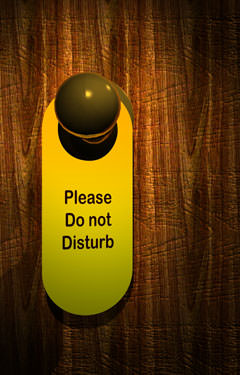 I am a people person. While I wouldn't quite call myself an extrovert (I hate strangers and get anxious in crowds) I am the sort of girl who is happiest when I'm surrounded by people who I care about. When given the option of going home for a quiet evening alone or going out to the bar with friends after work, I'm at the bar every time.
That said, there are a handful of things in life that I really prefer to do alone. And because my significant others and I work opposing schedules, I typically have about three hours of alone-time during the afternoon every day when I can take care of my alone-time activities. I didn't really think much about how valuable that time was until the past few days, when my husband has been working from home and suddenly I found myself in the presence of at least one other person at all times, for a span of almost a week.
My husband's girlfriend said to me once, after a particularly long and busy stretch of days, that she wished she could find time in her life when she wasn't around anyone she's sleeping with. I've got a pretty solid late-night social life after all my partners are abed, so I'm pretty lucky in that respect. I do get time with my friends. When schedules are normal, I'd say I get a pretty good division of time among complete solitude, partner-time, and social-time. This has just been an abnormal week for my husband's work schedule that threw a kink in my routine.
As I was getting frustrated with this problem, I decided to ask my step-husband-in-law for his input, because he not only has multiple significant others, but also young children. He told me that he makes a point of spending some time alone every day in his "man-cave," but that he almost never gets the house entirely to himself. That made me feel a little guilty for complaining about my one week of getting peopled out, but at the same time I realized that our home really doesn't accommodate privacy very well. Especially for the sorts of things that I like to be private.
To be specific, in polyamory, I live with my husband and his girlfriend. We have one bedroom with one bed, and we have an office with all three of our computers in it. There is a door to our bedroom, as there ought to be, but our office is a pass-through for the rest of the apartment. This means that if other people are at home, computer time is not private time, and really can't be without inconveniencing the rest of the household. "I'm sorry, you can't walk from the living room to the bedroom because I want to be left alone in the office," is not a terribly practical request.
I am a nervous writer. If I feel like someone might look over and say, "Hey, whatcha working on?" I can't focus. I can't deal with people looking at anything I'm working on before it's finished. My computer is a desktop, so sadly I can't just retreat to a room with a door and work with my computer in my lap. It's the desk or nothing.
More importantly, I like to masturbate. I don't care how many sexual partners I have, how often we have wild orgasmic sex, or how satisfying they are, I like the release that comes from solo sex. I suffer from performance anxiety, and that occasionally spills over into my sex life. Masturbation is important to me, because it's completely pressure-free. The only person I need to please is myself. I don't have to be aesthetically pleasing, I don't have to be especially loud or quiet or quick or slow. I can just get what feels good. Even if I were to close myself in the bedroom, solo sex is a little less solo when there's someone home to hear my orgasm noises. Obviously I have no shame in my husband hearing my orgasm noises, but it seems a little mean to not invite him to the party.
To bring this back to the "man-cave" and at-home privacy, I am hoping that when we furnish our second bedroom, we will be able to turn it into a sanctuary and escape when one of us wants to get away. Currently that room is a big pile of boxes, but to be fair we've only been in our current home for about six weeks. Eventually it will get cleaned up and made into an actual bedroom, and any of us can use it as a personal getaway. Maybe I'll find a keyboard for my tablet and be able to write more portably. This is an optimistic idea.