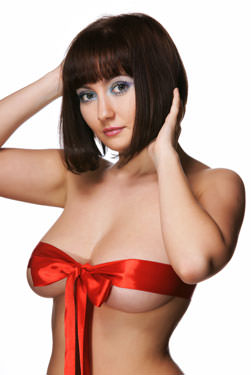 The topic of slut shaming has been on my mind recently, and I've been thinking about how it relates to polyamory, open relationships, and swinging.  There's been a lot of discussion in the media recently around how we as a society should approach contraceptive usage, and that discussion inevitably evokes discussions which highlight how broad swaths of society feel about sexuality. The word slut or implications of sluttiness have been appearing in the news with alarming frequency:
2/16 Santorum supporter John Friess said, "People seem to be so preoccupied with sex. I think it says something about our culture. We maybe need a massive therapy session so we can concentrate on what the real issues are. And this contraceptive thing, my gosh, it's so inexpensive. Back in my day, they used Bayer aspirin for contraceptives. The gals put it between their knees and it wasn't that costly."  In other words, those bad girls should just stop doing it.

2/29 Rush Limbaugh says, "What does it say about the college coed Susan Fluke [sic], who goes before a congressional committee and essentially says that she must be paid to have sex? What does that make her? It makes her a slut, right? It makes her a prostitute. She wants to be paid to have sex."
There have been some excellent critiques of this dialogue in our society, and I won't reinvent the wheel here but instead refer you to Soraya Chemaly's "A Slut Manifesto"  in The Huffington Post, and the Reformed Whores response video, and the "Are You a Slut?" flow chart.
I've also been reading a few books which have brought the issue of sex negativity and slut-shaming to the front of my mind. I recently read Jessica Valenti's "The Purity Myth: How America's Obsession with Virginity Is Hurting Young Women " for a book club, and I'm currently reading Jaclyn Friedman's and Jessica Valenti's "Yes Means Yes!: Visions of Female Sexual Power and A World Without Rape."  Both books touch on the point that our culture has a very ambivalent relationship to women's sexuality. Although women in sexual contexts are everywhere on TV, in movies, in the media, there is still also this popular notion that women can have too much sex, can be sullied, can lose respect or status by being too slutty. "Slut," a word meaning basically "has a lot of sex, sometimes with more than one person in the same period" is supposed to be an insult. Women are supposed to be ashamed to be slutty. Although men are sometimes called slutty now-a-days, it usually takes more to get them that label and the label seems to lack the same punch. Men might be a little slutty, especially if they are indiscriminate in their conquests, but that label comes with the implication that there is some respect that they are studly or virile. I don't generally meet men who are hesitant to share how many people they've slept with, whereas it's common for women to feel some reticence or shame around their number.
How does this slut-shaming impact the perception of swinging, open relationships, and polyamory, both by people in the vanilla world and folks in the open community itself?  First, a lot of vanilla people jump to a "slutty" label – at least mentally – when open relationships or swinging is mentioned, or polyamory is explained. The first assumption is that you are a big ol' slut and you can't control it so this is your way of fulfilling that drive. And that's a bad thing in their mind. There seems to be an underlying assumption for many people who of course we'd all (well, at least all men) would like to sleep with lots of people, but we give that up in order to have a happy, stable, long-term relationship. You can can have one or the other – lots of fun sex, or a responsible, stable relationship, but you can't have both. People who are open challenge that idea, and that is threatening. There seems to be a belief that we will have to pay for having our cake and eating it too, eventually.  Many people also make the association that slutty=dirty, and that gets applied to open relationships.  Some make the immediate assumption that people in open relationships sleep around a lot, obviously with multiple partners, and that being slutty is dirty. Sometimes there's an "ick" response as a result. Some people have the stereotype that swingers or people in an open relationship are a little dirty, creepy, and maybe infected with something.
However, one counter-intuitive result of these anti-sex attitudes is that sometimes it works in polyamory's favor. You can explain to people who it's polyamory – "many loves." So it's about love! Not just dirty sex! Then some people soften to the concept and give it more credence since it's divorced itself from pure sluttiness. You can love multiple people and not necessarily be having lots of sex with many people. Not like those dirty swingers who fuck every chance they get.
And that brings me to the effect of sex negativity 
within
 the open community. There is definitely a segment of the polyamorous community that looks down on sex-only open relationships and swinging as being dirtier or less valid or less respectable because they are primarily about sex.  The most long-running and popular polyamory podcast 
Polyamory Weekly
has the tagline: "It's not just about the sex." The first message the podcast conveys is that poly is not the same as swinging or "sport fucking." Many poly websites take care to note that it's not just about sex with a bunch of random people, distancing themselves carefully from those people who are just in it for momentary pleasure, as if that were a bad thing. I have heard many poly people also carefully emphasize that distinction. It makes sense – polyamory immediately gets painted with all the sex-negative bias against people who pursue sexual pleasure for its own sake, and it's a legitimate point that poly is 
not
 only about that.  I think it's a mistake the overemphasize the point in an attempt to not get painted with the "dirty swinger" brush. First of all, it reinforces the sex negative cultural belief that sex for its own sake is dirty and bad. Second, although poly is not only about hot sex with multiple partners, to 
some extent
 it 
is
 about that, and denying that denies one of the big benefits and an important part of who we are as people. Yes, multiple committed emotional relationships are great, too, but let's face it that if that's all you want you can just go make some good friends and avoid most of the drama.
Despite considering myself a very sex-positive person, I myself have seen and been part of some of this slut-shaming in the poly culture.  I admit with some embarrassment now that I had a pretty negative view of swingers for many years, and it is only since meeting Julian (who was once into swinging) and starting to listen to
Life on the Swingset
that my view has begun to shift. I had assumed that all swingers were conservative and oddly sex negative – in my mind they were ashamed to discuss their sexual transgressiveness in public, they avoided bisexual men, they didn't like people who violated gender norms, and at all costs they avoided emotional attachments with the people they slept with. There is a part of swinger culture which 
is 
like this. But I've realized it's not fair to assume everyone who participates in that culture approaches things the same way. I've also realized that the ethically non-monogamous community is not as neatly divided as it is presented – there is a lot of crossover and commonality among swingers, those in open relationships, and the polyamorous. We need to work together and not try to distance ourselves from part of the community because they are more likely to be slut-shamed. We have to embrace everyone's right to be a slut, even if we aren't participating in that element of non-monogamy.
Finally, I leave you with Franklin Veaux's amazing
"Map of Non-Monogamy."
 We are all part of the same diagram.